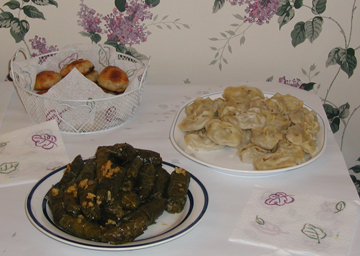 Samsa, dolma, and manti
I've eaten enough meals with the Meskhetian Turk families not only to learn about some of their foods but also see what a typical meal is like: A table is set to start with bread and homemade yogurt. The first course is some kind of soup or small dish. Next is the main course---a larger meat dish. A meal is wrapped up with chai and sweets plus a course of fruit.
Here are a few of the foods I have learned about in my time with the Turkish families. The dishes reflect the geographical history of the Turks with elements of traditional Turkish, Uzbek, and Russian foods.

Ekmek (bread) - Homemade bread is a staple of Turk meals. The families make a wonderfully thick, moist round bread.
Dolma - While it refers to almost any vegetable stuffed with beef, rice, and spices, the Turks tend to focus on using sour cabbage or grape leaves for their dolma.
Hanim - A layered pastry dish of with beef or sometimes potatoes
Hinkal and manti - Two types of boiled dumplings stuffed with beef, potatoes, or even sweet pumpkin.
Pilav - A traditional Turkish spiced rice dish often served with potatoes or chicken
Chai (tea) - While there is not one special type or preparation, tea is a staple in the daily life of the Turks.
Chorba (soup) - As with most soups, there are a number of varieties of chorba. One Uzbek type contains roast beef and lentils. Another common soup is tomato based with rice and chicken.